Today I went to get my hair cut in downtown grand junction OMG it feel so great !
On the walk back to my car I saw I very cute display in front of one vintage furniture store.
This store call "Haggle of Vendors the Emporium" in downtown grand junction ,CO
The owner is really nice and he's nice enough to let me taking picture inside the store
When I first walked in I saw this shabby chic desk it's so cute. Wish I could get it.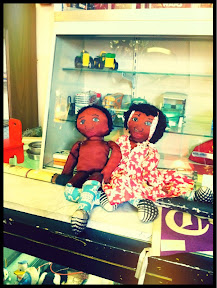 Shelf full with jars and tin boxes .
Love that barbie doll box on that right top shelf.
Such a colorful Easter basket.
All kind of toys it's so adorable and inspired .
Mint and powder boxes.
Tins bucket.
Awww I'm so happy and glad that I stop by at that store.
Got a fabulous hair cut and see a fabulous store to get some inspiration for making another mini album.
(\ (\
( ^.^)
o_(")(")
What a life
xoxo
Posted using BlogPress from my iPhone